Skimlinks offers full transparency into the publishers driving traffic and sales to CJ Merchants via CJ's interface as well as referring URL information.
For domain-level reporting, use the Performance by Website report in the CJ reporting suite. Go to Reports Tab > select "website" from the "Performance by" drop-down and filter the report by the Skimlinks CID to see Skimlinks Publisher domains.
To see the referring URL, go to Reports Tab > Transaction Reports > Commission Detail Report. Filter to Skimlinks and be sure to check "Referring Click URL" in the column selector tool. You can see reasons why a referring URL may not appear here. If the referring URL is not visible in CJ, then we will not have the information either.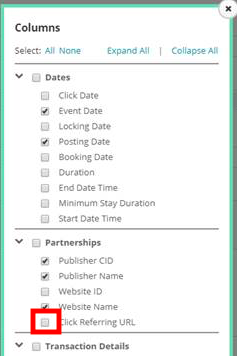 Our integration with CJ also allows you to set up unique rates per website using PID. The steps are below:
Publishers tab > Search > "Search by": CID > "5370367" or Publisher Name: Skimlinks

Click on "Skimlinks" in Publisher Name column to open details page.

Select the "Download all Properties" link to export a list of all PIDs.

Once you have the PIDs from the system, follow the appropriate CJ instructions for implementing the rates. If you have questions about setting up rates in the CJ platform, please reach out to your CJ AM.
*Please note: PID level commissions cannot be set up if the merchant is utilizing itemized commission rates. Itemized commission rates are those that are applicable to only certain products or product categories.